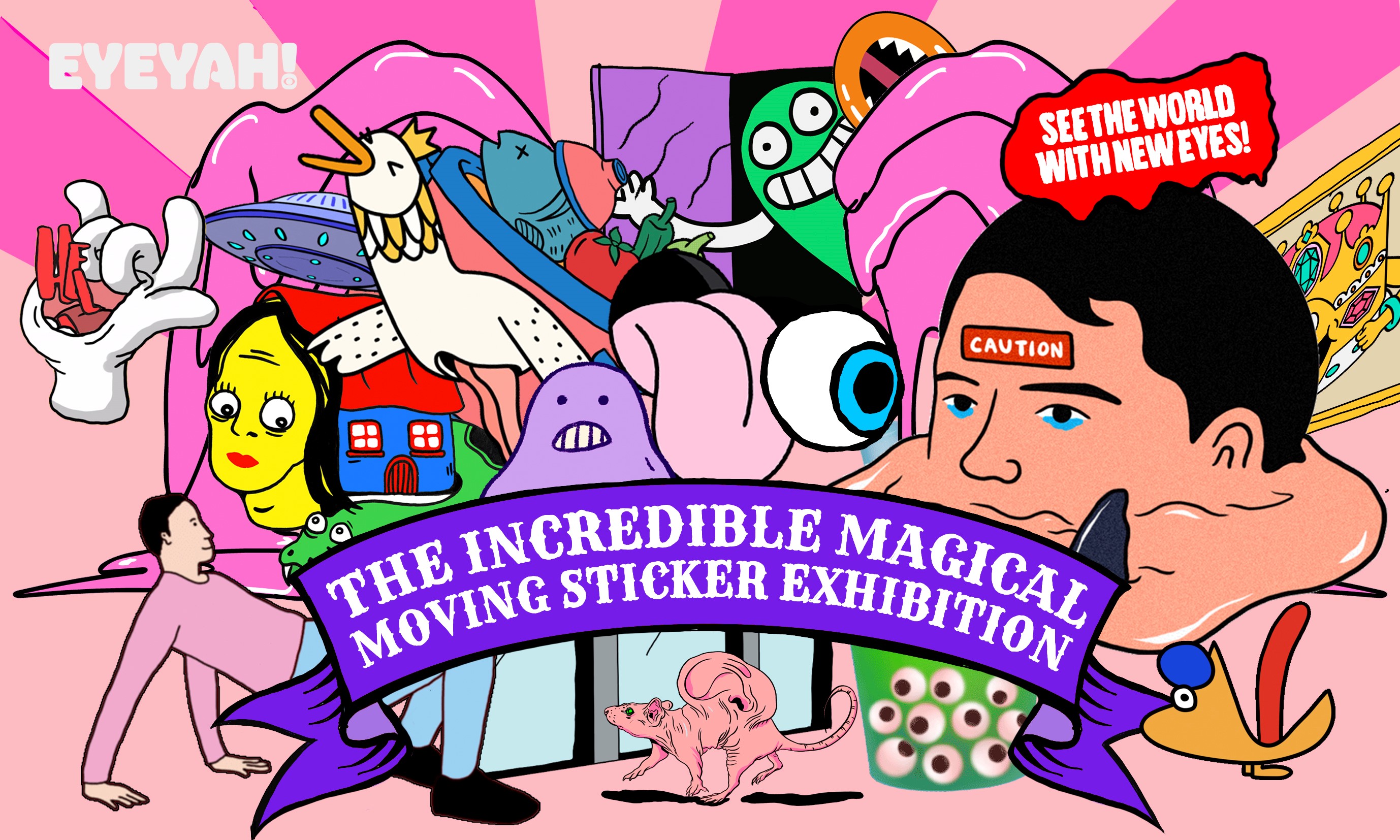 Take part in "The Incredible Magical Moving Sticker Exhibition" at Singapore Art Week 2021
01 Dec 2020
EYEYAH! is excited to announce our upcoming exhibition "The Incredible Magical Moving Sticker Exhibition" at Singapore Art Week 2021. In what could be the first exhibition of its kind, you – the members of the publicreations and land yourself a spot in our exhibition over Singapore Art Week 22 January – 30 January 2021.
Participating artists:
These miniature works of art tell a story, express an emotion or idea, and can be overlaid on everyday scenes to transform photos or videos into dynamic moving artworks.
We are challenging you to use these special GIF stickers in creative ways in your stories.
Participating artists include: Hombre McSteez (United States), Jon Burgerman (United States), Reza Hasni (Singapore), Eeshaun (Singapore), Howie Kim (Singapore), Anngee Neo (Singapore), Sesame Seed Cat (Singapore), BÜRO UFHO (Singapore), Ng Yong Huiii (Singapore), Teumm (Singapore), Eric Foenander (Singapore), Mr Papriko (Japan), Sidd Wills (United Kingdom), Adeline Tan (Singapore), Deladeso (United States), Sheryo (United States), Yeah Yeah Chloe (Australia), James Clapham (United Kingdom), Somewan Draws (Singapore), Dale Lam (Singapore), Owhyjy (Singapore), thisisjz (Singapore), 249.png (Singapore), Huiimiiin (Singapore), Shiaaan (Singapore), LVN93 (Singapore), Zootghost (Ireland), MGLO (France), Rollerskinny (Singapore), Tradervans (Singapore) and Beverly Ng (Singapore).
How to participate:
Between 1 December 2020 – 5 January 2021, we will release a new sticker and invite you to get creative with it. Create a story using our Instagram stickers and tag us to automatically submit your artwork for potential showcase in Singapore Art Week. "There are some seriously ridiculous stickers and we know our audience will love them", says curator Steve Lawler, founder of the bi-annual GIF FEST.

We are looking for stories that include originality, A+ for efforts and execution.
How to enter:
Create a story with any of these Instagram stickers (search for "eyeyah") between 1 Dec 2020 to 5 Jan 2021

Upload on Instagram, tag us @eyeyahmag and include hashtags
#eyeyahXSAW #eyeyahmag

Tip: Remember to set your Instagram account to public
If you don't know how to use Instagram stories or stickers, watch the video tutorial below on how you can create and submit your creative piece.

We will also be offering a series of talks and virtual workshop where you can learn the process of sticker making and even try to make some yourselves.