EYEYAH! presents A Show About The Sea
23 Mar 2021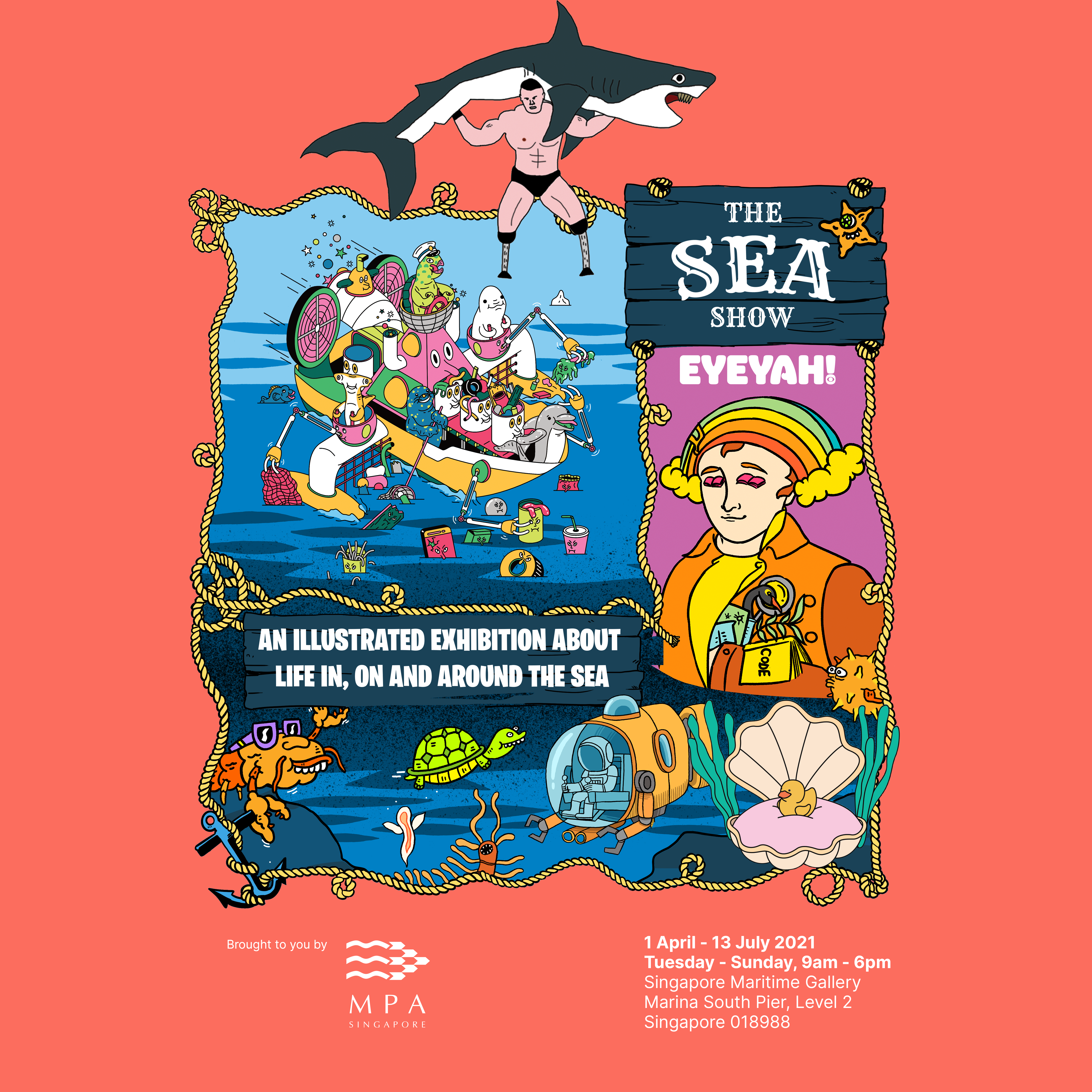 Did you know that the sea covers over 2/3 of the Earth's surface and that more than 80% of world trade is seaborne? The Sea Show, created in conjunction with Maritime and Port Authority of Singapore (MPA) is a visually stimulating and thought-provoking experience for kids and kidults to learn about the ocean.
Featuring the work of artists, visual thinkers and illustrators from 13 countries, the exhibition celebrates the wonders of travellers and explorers, ships and cargoes while recognising some of the threats to ocean life.
Participating artists include Micha Huigen (Netherlands), Dirk Koy (Switzerland), Felipe Medina (Canada), Aurore Carric (France), ZootGhost (Ireland), Russell Taysom (UK), Jack Teagle (UK), Gabriel Hollington (UK), James Clapham (UK), Cesc Grané (Japan), Bang Sangho (Korea), Jarret Oh (Singapore), Anngee Neo (Singapore), Ting Ye Le (Singapore), Reynard Adrianto (Singapore), Gabriella Augusta (Singapore), Dom Llorens (Singapore), Russell Ong (Singapore), Eeshaun (Singapore), Mikee Atendido (Philippines), Hariprast (Indonesia), Maddie Egremont (Australia), Chloe Bennett (Australia), Gerson Gilrandy (Indonesia), Catherine Hom (USA), James McInvale (USA), Daniel Sulzberg (USA) and Overcookdelux (France).

Exhibition Details
The Sea Show runs from 1 April to 13 July 2021. Tuesday to Sunday, from 9 am – 6 pm at the Singapore Maritime Gallery, 31 Marina Coastal Drive, Level 2, Singapore 018988.

What's more?
Pick up a copy of The Sea Show activity booklet at the entrance and hunt for answers to redeem an exclusive EYEYAH! Sea Issue magazine upon completion.