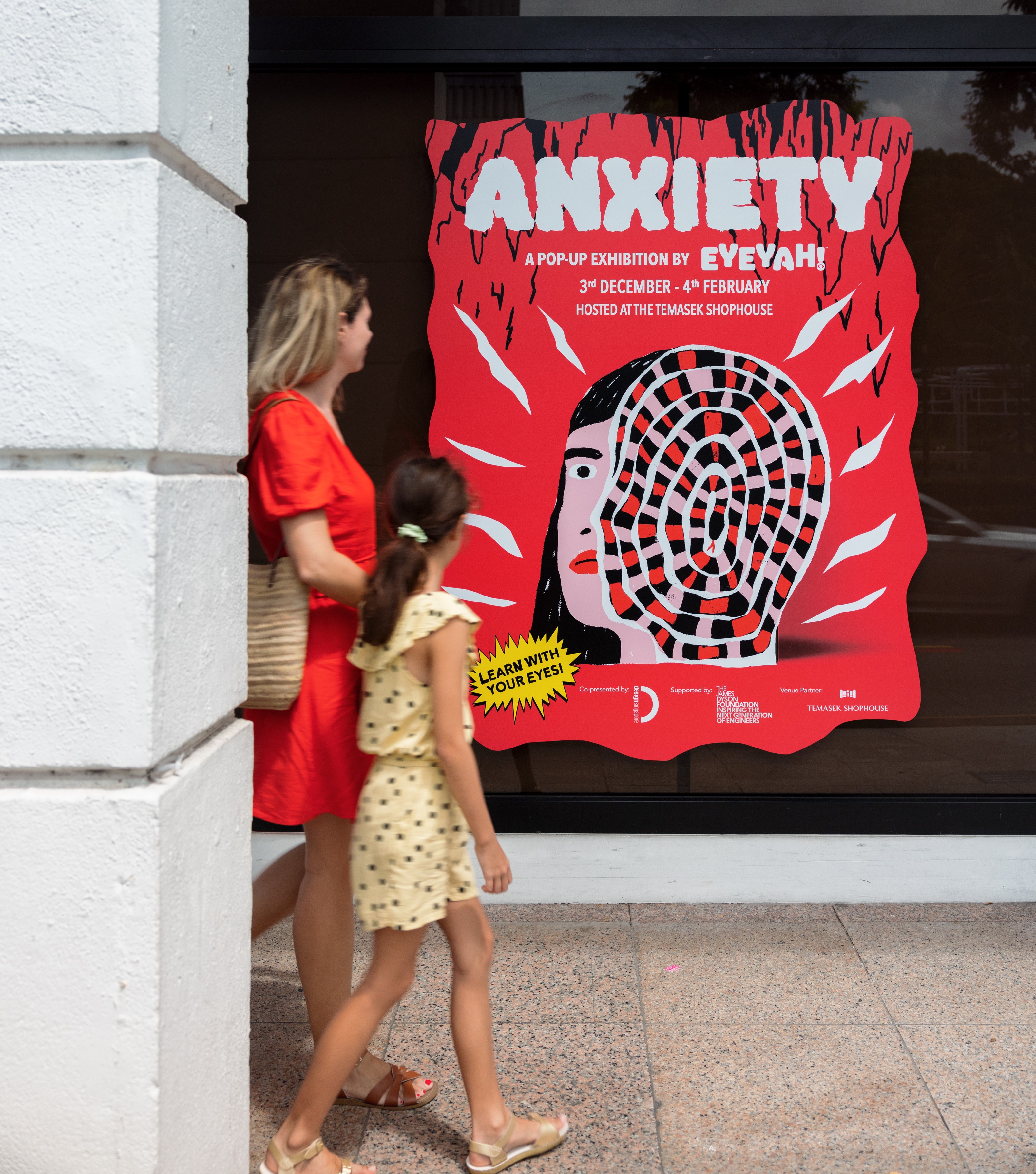 Mental Health themed Pop-up Exhibition at Temasek Shophouse
09 Dec 2022
The EYEYAH! pop-up museum that uses illustration to provoke conversation around mental health is touring venues and schools in Singapore and will be at Temasek Shophouse, a social impact hub in the heart of Singapore, from 5 December 2022 – 4 February 2023.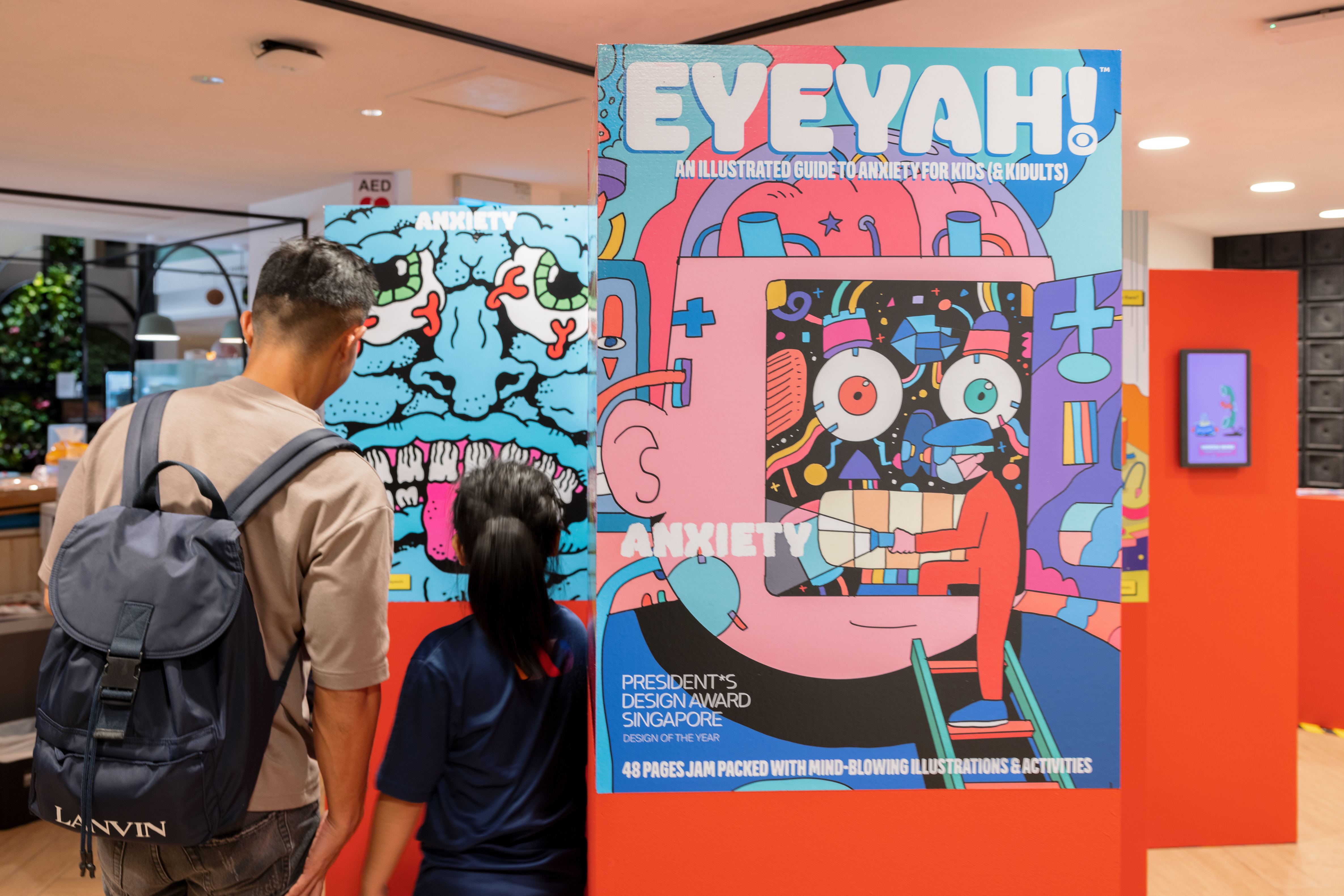 Curated by EYEYAH!, the exhibition showcases 40 world-class artworks by contemporary digital artists from Singapore and ten other countries. The artworks explore what anxiety looks and feels like, its causes, positive and negative anxiety, how to overcome it, and resilience.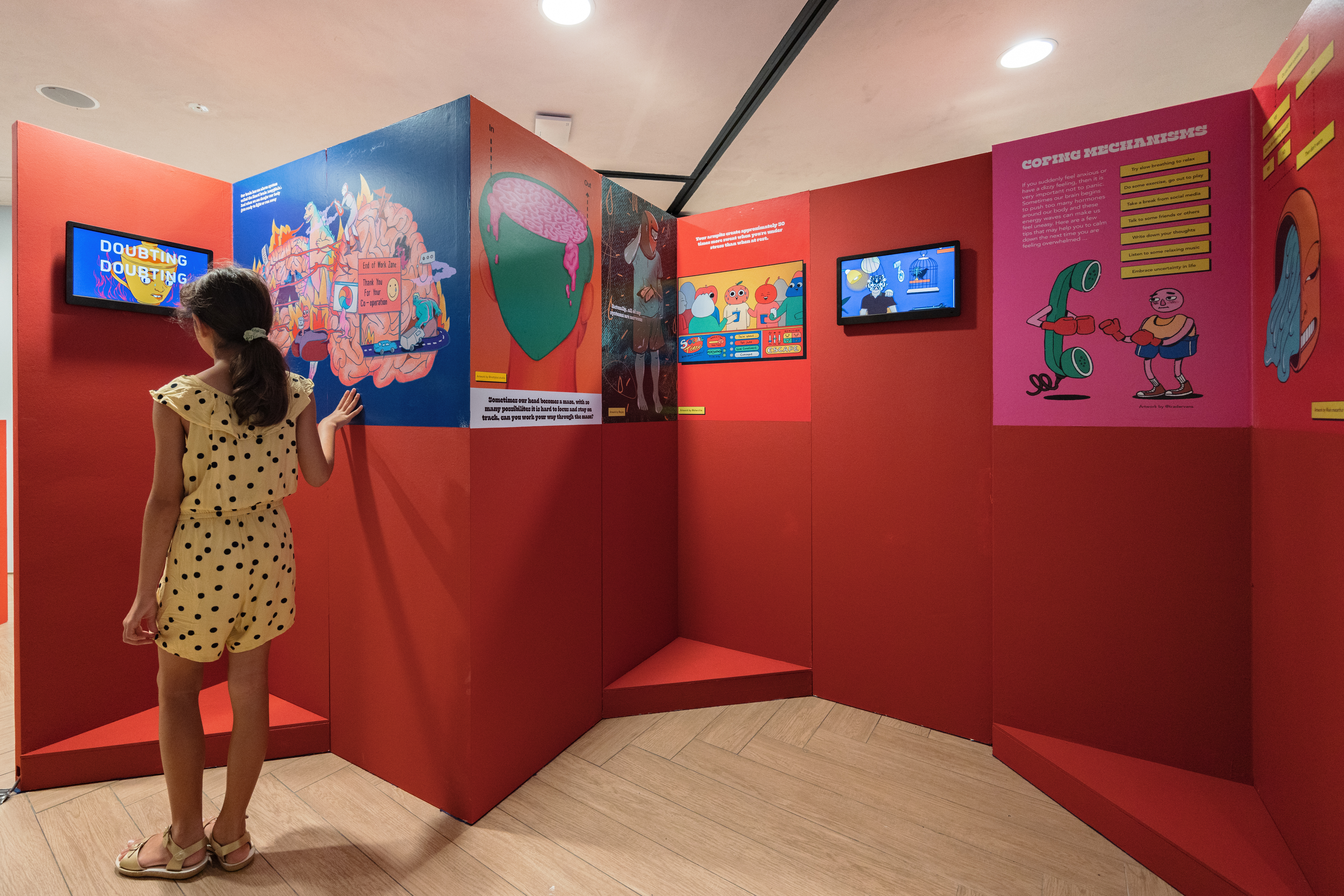 The animations are being showcased at ArtScience Museum – MENTAL: Colours of Wellbeing. EYEYAH! magazine, which features the full collection, is distributed at prestigious art and design institutions such as National Gallery Singapore, Tate Modern, and Design Museum London.
To date, the pop-up has toured Kult Kafe in Bukit Timah and Raffles Girls Secondary School. The Temasek Shophouse pop-up gives members of the public an opportunity to see the entire collection of work in a central location, free of charge.
The exhibition and supporting programme which includes assembly talks and workshops for teachers are developed by EYEYAH!, and co-presented by the DesignSingapore Council with the support of The James Dyson Foundation.
"There is a need to approach mental health from a cool new perspective. Visuals speak directly to the sub-consciousness and trigger viewers to slow down, observe, analyse and interpret each image to see how it might relate to their own lives. We are delighted more people in Singapore will get to experience the exhibition at Temasek Shophouse," said Ms. Tanya Wilson Chua, Education Lead of non-profit EYEYAH!
"The pop-up exhibition and assembly talks by EYEYAH! helped to create more awareness on mental health challenges and prompt open conversation around the topic with students," said Ms. Amalina Yahya, counsellor, Raffles Girls' School.
"As a social impact hub, we are delighted to partner with EYEYAH! to host their mental health pop-up and contribute towards raising awareness of mental health in this very approachable, visual manner," said Ms. Yvonne Tay, Head, Temasek Shophouse.
Location: Temasek Shophouse, 28 Orchard Rd, S238832
Opening hours:
Monday to Friday | 8am – 9pm
Saturday & Sunday | 11am – 5pm
Closed on 25 December and half-day on 26 Dec | 11am – 5pm
1 January closed and half-day on 2 Jan | 11am – 5pm
Participating schools:
Raffles Girls School, Loyang View Secondary School, Northlight School, and Spectra Secondary School.