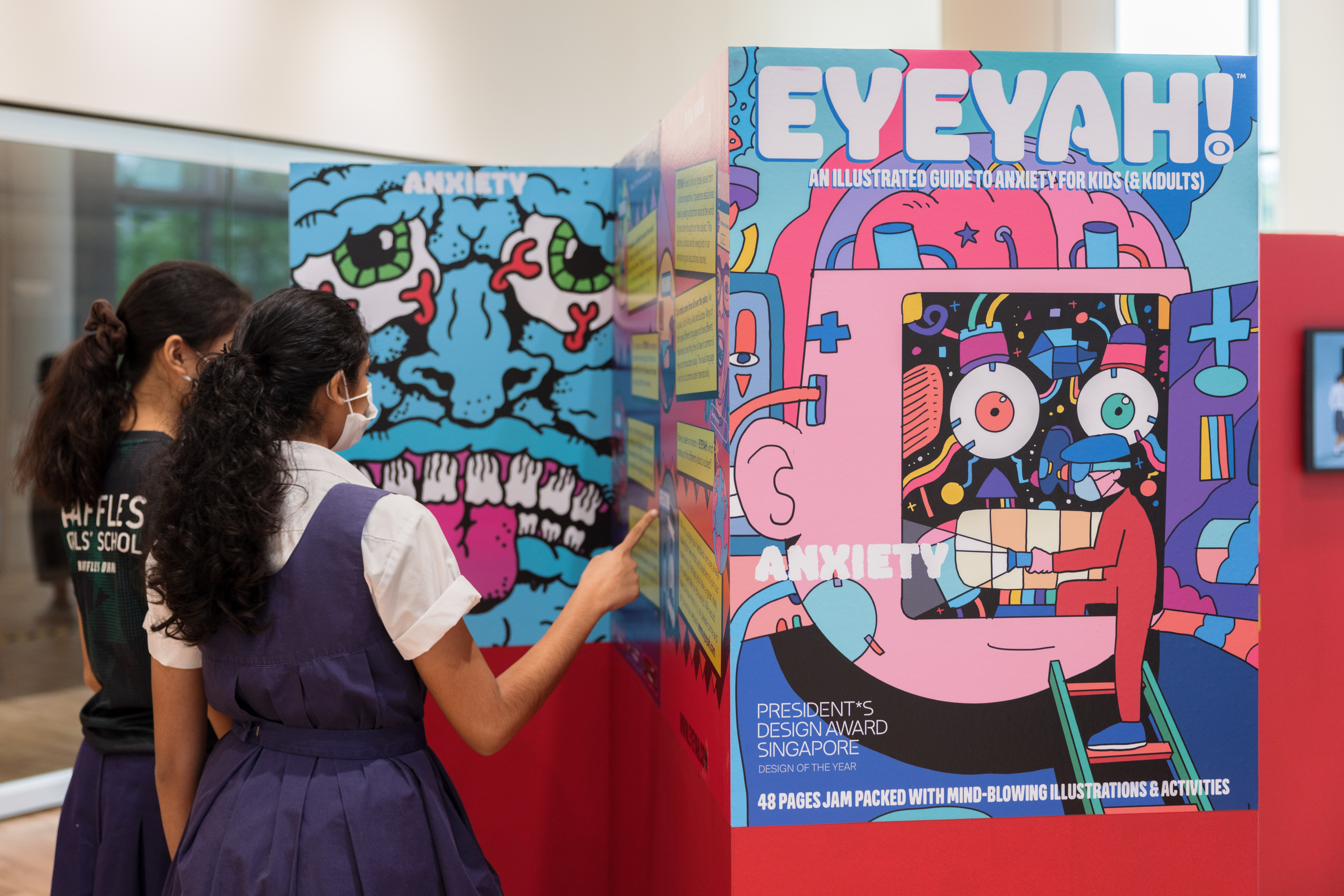 "Look Deep" Pop-up Museum
01 Nov 2022
4,000 Singapore Secondary School Students to learn about Mental Health through Slow Looking.
A pilot programme developed by EYEYAH!, and co-presented by the DesignSingapore Council with the support of The James Dyson Foundation uses illustration to provoke thought and discussions around mental health and resilience.
Titled "Look Deep", the programme showcases 40 illustrations and animations in a pop-up exhibition at four secondary schools. Students are invited to slow down and ponder the illustrations, determine the meaning behind each one and assess which they can and can't relate to.
As a follow-up in the classroom, teachers highlight key illustrations and use a visible thinking questioning technique to spark discussion.
The programme explores what anxiety looks and feels like, its causes, positive and negative anxiety, how to overcome it, and resilience. It includes a teacher training workshop and ten hours worth of image-based lesson materials for classroom discussion.
"In the fast-paced digital age that we live in, there is so much competing for the attention of teenagers. Always-on behavior is harmful to long-term mental health, and starting from young, we need to learn to hit the pause button. We've found that illustrations are a powerful way to catch the attention and connect with teens. By theming the work around mental health and applying a slow-looking technique, we can facilitate conversation and learning. We hope to bring this program to students across the world." Says Tanya Wilson Chua, Education Lead EYEYAH!
"We are proud to support our President*s Design Award 2020 recipient, EYEYAH!, in their continuing efforts to use visual communications to address complex social issues in an accessible and engaging way. We hope that this pilot programme will find resonance among students and educators alike; and help our younger generation look at the world with fresh eyes and empower them to be part of the change they want to see." Says Madeleine Ho, Director of Marketing, Communications and Programming, DesignSingapore Council.
The programme kicked off in October at Raffles Girls School, in conjunction with World Mental Health Day on 10 October 2022.
Participating schools in 2023 include: Raffles Girls School, Loyang View Secondary School, Northlight School and Spectra Secondary School. Schools who wish to host the pop-up can write to education@eyeyah.com.
Animated illustrations have been showcased on Nickelodeon Asia and at MENTAL: Colours of Wellbeing exhibition at ArtScience Museum.