Artist Feature: Cesc Grané
23 Apr 2019
"Never grow up."
"Just keep drawing! Just keep being creative!"
Spanish illustrator, Cesc Grané, has travelled all over the world – he has lived in Barcelona, Qatar, and is currently based in Tokyo. His experiences and adventures have shaped his artwork, resulting in a unique character style and essence. He employs a variety of techniques in his work, including sculpture, digital illustration, print and animation.
We had a chat with Cesc, inspired by questions from a 13-year-old, to find out more about his influences and his crazy characters.
"I guess, really, you start becoming an artist when you're a kid."
When did you become an artist?
Wow, I guess I started 14 years ago when I drew my first character in 3D. Since then I've been developing the style and the skills to improve the shades and everything.
But I guess, really, you start becoming an artist when you're a kid. When I was 3 years old I went to art classes so I was always drawing and painting and since then I've been fascinated with illustration and drawing.
How would you describe your art?
My characters are fun and positive and warm.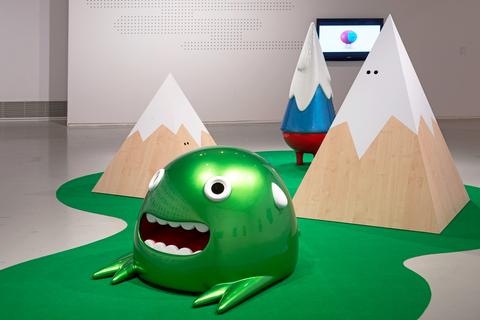 "It was kind of fun for me to imagine the world like this"
What do you like the most about drawing characters?
When I was a kid I enjoyed watching cartoons and Japanese Animes. A lot of the objects, like mountains, clouds, phones and even houses had faces and could talk and interact with humans.
You know when you're a kid and you draw a sun with the eyes and the mouth? I just kept doing this, with everything – just to add personality to any character and any object. It was kind of fun for me to imagine the world like this.
"…you're improving all the time." 
What is your favourite artwork of yours?
Usually the latest projects I'm working on are my favourite. I feel like the older ones are not as good because you're improving all the time.
Recently, I did some characters for a Japanese eye care company called Re-Nu. We made some animations, and my characters are also on the packaging. Right now that's my favourite because I can walk into a pharmacy or supermarket and see my characters on the packaging.
Who is your favourite artist?
Takashi Murakami. I really like Japanese artists because they have a different view and perspective on things.
Japan is full of characters everywhere! That's what I like the most – it's like a character paradise. That's one of the reasons I moved here.
If you weren't an artist what would you be?
I've always been interested in music. When I was a kid I wanted to play the guitar and the bass and the drums. But I never played any instruments even though I've always wanted to. Now I'm interested in electronic music so I like to make electronic music.
Do you have any advice for kids who are aspiring artists?
Keep drawing! Keep being creative! If you like to draw always draw, if you like to play music just play music. Never grow up. I think the world would be better if we all stayed kids.
Watch this space for more Artist Features!